Thinking about winter camping? A night out in the solitude and quiet of winter can be an unforgettable experience. There's nothing quite like emerging from your tent and having a hot cup of camp coffee as you look out over a fresh snowfall. The views – and the quiet – make the little extra bit of planning worth the effort.
The weather is harsher and the daylight hours shorter, but winter camping has rewards that you just can't get any other time of year. With some extra gear and preparation you can enjoy the beauty and solitude that comes with camping in the snow.
Don't let the freezing temps or snow stop you from getting out there. Having the right gear stash can make all the difference for exploring the outdoors in the colder months of the year. Whether your tent camping, snowshoeing or skiing to camp, these gear items will keep you toasty and dry.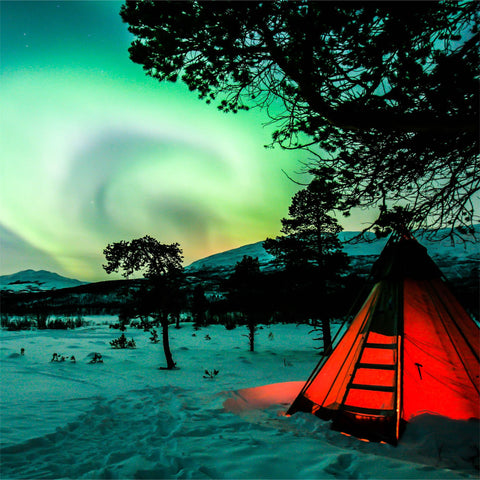 What to Wear Winter Camping
Never go cold weather camping without the right winter camping gear.
The right winter clothing makes a huge difference in how warm and dry you stay. It also helps you avoid frostbite and hypothermia.
A staple gear item for any cool-weather or mountain adventure. DEWBU heated jacket is equipped with professional waterproof soft shell material for excellent breathability. And also has good tensile properties, scratch resistance and wind resistance, allowing it to remain warm throughout the day, even on cold, snowy days.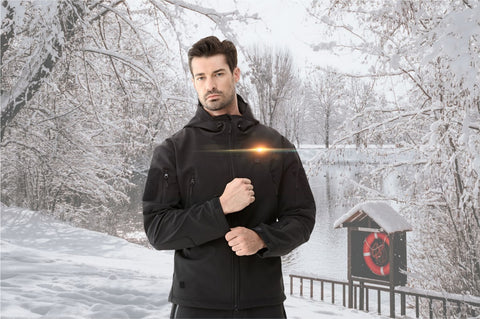 Windproof & Snow proof
This heated pant adopts lotus leaf bionic technology, effectively prevents the water molecules from penetrating, and accelerates the water droplets from sliding off the fabric. Keep you dry and warm during the rainy day and humid environment.
Wear Resistance
This heated pant has well-worn resistant ability, it remains good appearance even you hike in the dense forest, enjoy comfortable warmth while doing outdoor activities.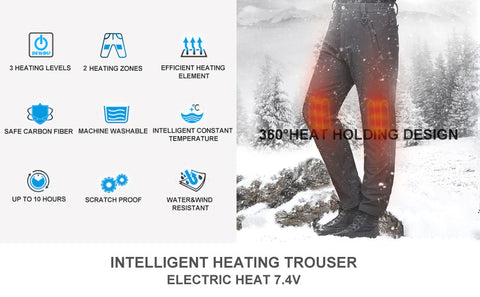 Get the Right Gear to Take Winter Camping from Frigid to Fun
This involves a moisture-wicking base layer, an insulating mid layer, and a weatherproof outer layer. Add warm socks, gloves, and a hat for even more protection.
Accessories: These simple accessories can provide lots of comfort on cold days:
Winter hat: A basic wool or synthetic beanie had will work well. Make sure your hat covers your ears. If your face gets cold, consider a facemask or balaclava.
Gloves and mittens: Fleece gloves provide basic warmth, but insulated gloves with waterproof/breathable shells are better. Mittens let your fingers share warmth, but the you sacrifice a bit of dexterity. Whatever you choose, it's wise to take an extra pair along in case they get wet.
Goggles and glasses: Always protect your eyes from sun and wind. If you anticipate bright, sunny days, you'll want glasses or goggles with dark lenses and a visible light transmission (VLT) of about 0 – 19%. For cloudy weather, light-colored lenses, such as yellow, gold, amber or rose, help enhance contrast in tricky, flat-light conditions. A VLT of about 20 – 40%, or even higher, can be good in overcast conditions.
Socks: Wear non-cotton socks. The appropriate thickness of your socks is determined by your boot fit. An extra-thick sock will not keep your feet warm if it makes your boots too tight. Take extras.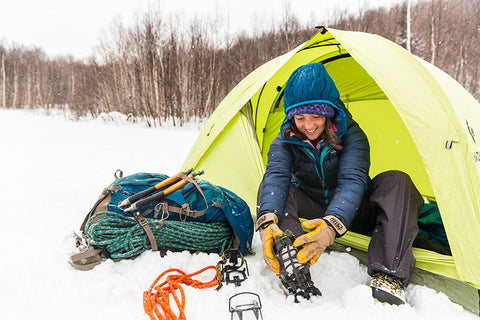 Tips for Winter Camping
Shake that Sleeping bag! 
Scientifically, sleeping bags are more effective when they trap pockets of air which then absorb the heat from your body. Thus for maximum effectiveness, shake that sleeping bag before use to make sure it's filled with air. This principle is also the same way double glazing windows work, they trap a layer of air between the two glass panes.
Go to bed with a hot water bottle.
A hot water bottle in your sleeping bag can stay warm for hours and help you sleep soundly when it's well below freezing in your tent. Fill up your hard plastic bottle with hot water and go to bed with it between your legs so it hits your femoral artery. If the bottle is too hot to the touch at first, wrap one of your layers around it and then place it between your legs.
Eat Food and Hot Drinks
On a cold day, your internal furnace needs more calories to keep burning. That's when an insulated bottle of something hot and delicious offers salvation.
Add even more ground insulation:
Put your waterproof layers between your two sleeping pads to add a little extra insulation from the cold ground.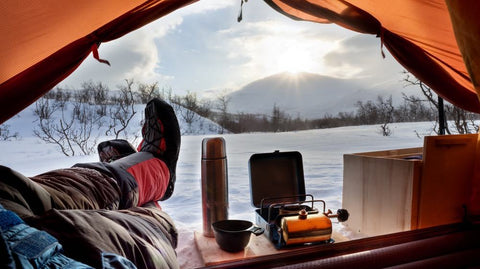 Use your foam pad for more than sleeping
Use your foam sleeping pad to sit or stand on while you're cooking. It helps you stay a little warmer and drier.
Fill floor space in your tent
A bunch of empty floor space inside your tent will make it hard to warm up the interior space. Bring your backpack and other gear inside (avoid sharp items that could rip your tent, like crampons and axes) and place it around you on the floor of your tent to act as insulation against the cold ground.
Exercise before bed
Crawling into your sleeping bag cold is a sure way to shiver all night long. Do 50 jumping jacks, jog in place or chase your friends around camp. When your heart is pumping and you're feeling warm, get in your sleeping bag and zip it up tight.
Use your body as a dryer
If your gloves or socks get wet, put them on top of your base layer on your shoulders, in your armpits or tucked into your pants' waistband where your body heat will dry them.