We humans need gear to make sure we're safe and prepared in the mountains and so do our four legged friends! This is a list of things we bring on every hike to make sure we're both ready to have fun on the trail. You may not need everything on this list, but I highly recommend always having a first aid kit, a rescue harness, a water bowl, and extra dog food to ensure you and your dog could get out of a troubling situation unharmed if need be.
1. Training
Training is the most important preparation for hiking with your dog. Proper training ensures that you, your dog, and other hikers can all be safe and comfortable on the trail. Leash skills, sit-stays, and recall are the three most important skills to be solid with on the trail.
Endurance and training for the trails is just as important for your dog as it is for you!
You may be surprised, but there are things that you should always carry specifically for your dog when you're on the trail. Some of these things include a dog specific first aid kit, rescue harness, collapsable water bowl, and extra dog food. Check out Lucy's three season gear list for all of the essential equipment that we pack on a hike.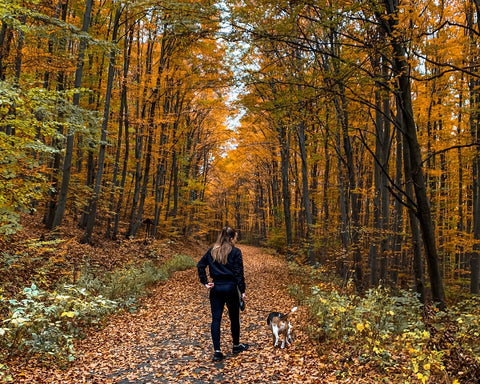 3. Behavior
If you feel your dog is fit enough, then ask yourself whether it is sufficiently well-behaved. Hiking may take place in the wild, but that does not mean you will be alone. Before you take your dog into the backcountry, be sure it can heel, sit, stay, and come at your verbal command. Your dog should also be comfortable on a leash and, if off-leash, be more interested in staying with you than in chasing chipmunks. As importantly, your dog should be completely socialized among other dogs and humans. Trails are narrow, often with dense undergrowth on either side. You will be close to others when you pass on the trail or at the top of a popular mountain. If your dog is aggressive or overly protective, it will not be a good hiker-dog. Ditto if it's prone to barking, which disturbs the quiet that so many people value in the backcountry.
4. 24 Hour Supply of Food
This should always be in your pack when you go out with your dog just in case of emergency. We bring extra human food to be prepared, so make sure your dog has some too! Also, if you plan to be doing longer hikes and backpacking trips think about talking to your vet about how much you should be feeding your dog when you're doing extra activity. Again, humans need more calories when they're being active and so does your dog!
5. Keeping Your Dog Safe
Not every hike is dog-friendly, and those that are might still have elements that seem attractive to you but that could pose a danger to your dog. Before committing to a route, consider the following:
Fire towers. These historic lookouts with their steep, narrow stairs and scaffolding-like construction disorient dogs. Most cannot make it to the cabin, and if they do, the space is extremely cramped inside for a nervous canine. If a fire tower is your destination, leave your dog at the base of it, held by a friend or tied to a tree or rock away from the steps.
Cliffs. A dog won't intentionally jump off a cliff, but it will sense your excitement or trepidation and get excited itself, often bounding ahead. To avoid any scares—or worse—be sure to put your dog on a leash and keep it calm and close when approaching cliffs.
Ladders. Avoid hiking trails with ladders. The taller the ladder is, the lower the odds of your dog finding an alternate route, and it is dangerous to both you and your dog to carry it up or down a ladder.
Water. Dogs are susceptible to waterborne illnesses. Technically, you should discourage your dog from drinking water along the trail. Yeah, right: Only the most prudish dogs will ignore a babbling brook, and most will jump into a swampy pool of stagnant algae if they are hot and thirsty enough. If possible, guide your dog to clear, running water, and always carry water and a water dish for your dog. Streams frequently dry up, and dogs are not allowed around water sources for shelters and campsites.