Women's Heated Jacket Detachable Hood With 12V Battery Pack - Black
🔥NOW $135.99🔥Use discount code at checkout: WINTER20
🔥Get $15 off on orders over $300 - code: BFCM15
🔥Get $30 off on orders over $500 - code: BFCM30
---
The soft shell heated jackets are equipped with waterproof zippers, detachable hood, and multiple pockets. They made with professional grade waterproof soft shell material, equipped with 5 heating zones and 3 heating modes. 2023 upgraded 12V heating element and battery pack can heat the jacket to 140℉ in just seconds. You can enjoy even longer run time by purchasing the separate DEWBU 12V special cable to connect car cigarette lighter and other portable power sources.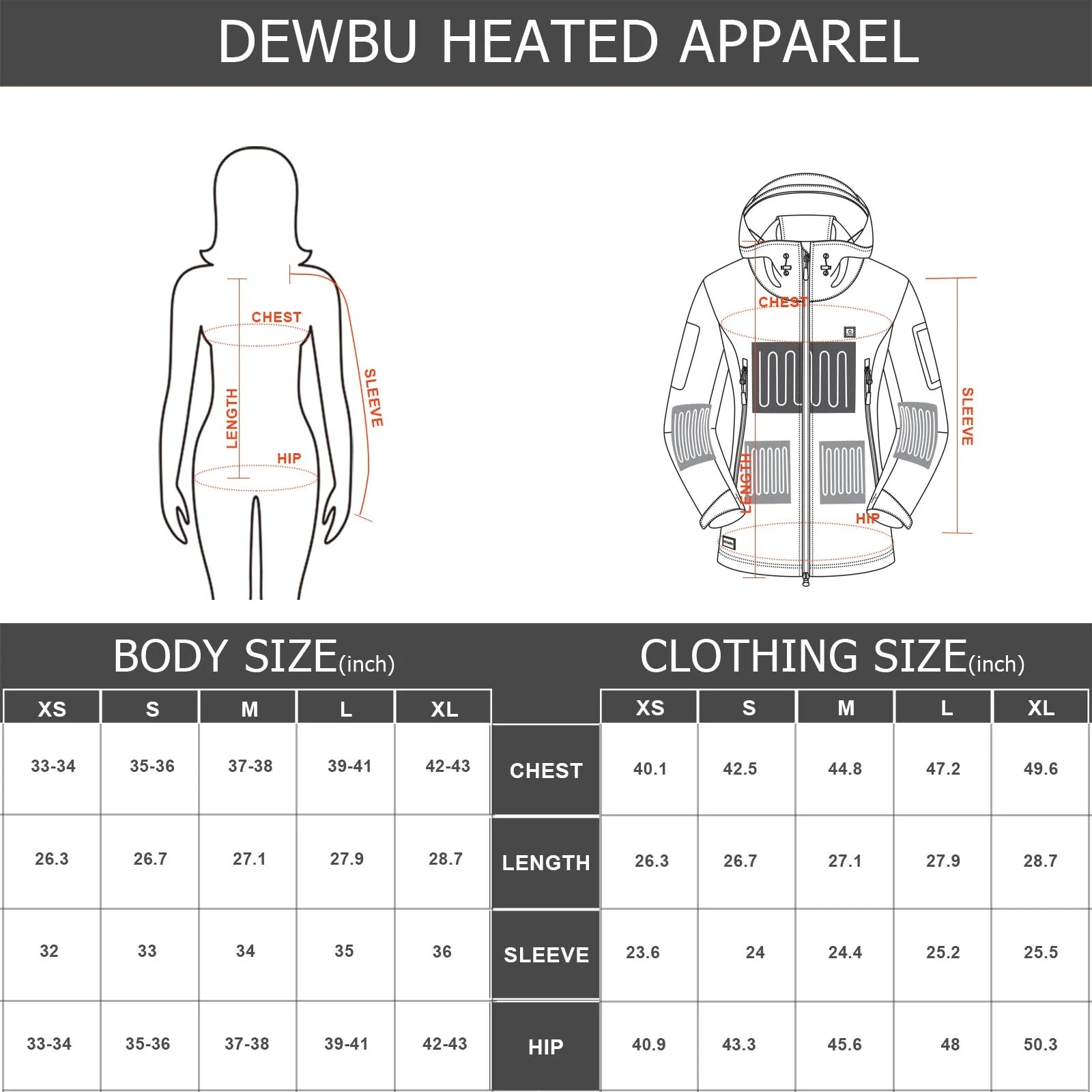 How To Measure
CHEST: Measure at the fullest part of the chest, under the armpits and over the shoulder blades, keeping the tape measure firm and level.
LENGTH: Measure from the highest point of the shoulder seam vertically to the bottom edge.
SLEEVE: Start at the center back of your neck and measure across the shoulder and down to the wrist. Round up to the next even number.
HIP: Measure around the fullest part of your hips.
12V 5 Heating Zones:


The Heated jackets for men are equipped with 5 carbon fiber heating zones (two on front, one on back, and one on each arm). It can heat up your entire core body area and keeps you warm, there are two heating zones near the front pockets that can keep your hands warm at the same time. You can adjust 3 heating modes by short-pressing the power button (Red, Blue, and Green)
12V Battery/Intelligent Led Display:


The equipped high capacity 54Wh 12V CE/FCC certified battery can heat the heating elements up to 140°F within a few seconds. Our heated jackets can keep warm up to 3.5-4 hours at the high level, and 9-10 hours at the low level. The USB Type-C port can be used to charge smartphones and other mobile devices.   
Durable & Easy Care:
DEWBU heated coats are built with high-quality and professional water-resistant softshell materials and a waterproof zipper. They also have good tensile strength, scratch resistance, and wind resistance. Heating elements and overall jacket structure are designed to endure routine hand or machine wash.

Removable Hood & Waterproof Zipper:
The heated hoodie offers you great flexibility by having a removable hood. They also offer you excellent utility by having 2 large zipper hand pockets.

Multiple Power Supply Methods:
DEWBU heated jacket uses a 12V power system, which can be connected to the portable power station, motorbike, boat, ATV, snowmobile, or any other vehicle through a DEWBU 12V connector wire (Connector Wire Sold by DEWBU Separately) to keep you warm in extremely cold winter without time limited.
12V 

Heated Jacket×1
12V Power Bank×1
Charging Cable×1
Quick Start Guide×1
OUTER MATERIAL:
 95.5% Polyester, 4.5% Spandex
INNER MATERIAL:
100% Polyester
HEATING ZONES:
5 heat zones. Two in the left & right belly, Two in the arms, and a large zone in the back. 
POCKETS:
Multiple zipped pockets Design, Convenient Storage. 
HEAD HOOD: 
The Detachable Hood, Offers You a Great Flexibility 
BATTERY:
Battery Energy 54Wh (equivalent to an ordinary 15000mAh mobile power bank, the output power is up to 12V). 
HEATING MODE(TEMPERATURE): 
Low: 110° F, Med: 125° F, High: 140° F 
HEAT-UP TIME(FULLY CHARGED) :
Low: 9-10hrs, Med: 5-6hrs, High: 3.5-4hrs 
12V MULTIFUNCTIONAL SUPPLY CABLE: 
12V heated element can use car cigarette lighter and portable-power.(cable need to be purchased separately). 
CARE INSTRUCTIONS: 
Hand/Machine Wash 
WARRANTY:

1-Year Limited Warranty on Heated Apparel

(3-Year Warranty upon Registration)

12-Month Limited Warranty on Battery

(18-Month Warranty upon Registration)
SHIPPING
FREE Shipping in The US
When will my order be shipped?
-We will usually ship the same day after receiving your order.
How long does delivery take?
-The package delivery usually takes 1-7 business days, depending on your location.
How will my delivery be shipped?
-Amazon functions as our logistics partner to ship out DEWBU products. They will choose the carrier that they think works best for our customers.
Can I change the delivery address of my package after it has been shipped out?
-Unfortunately, we cannot change the shipment once the product is en route.
RETURN/EXCHANGE
30-day return and exchange
FREE return shipping in the US
How could I get free Returns or Exchanges benefits?
-Shipping is free on your 1st Returns or Exchanges for any order.
How long do I have before making a return?
-You have a max of 30 days to make returns.
Can I still return items if they are worn, damaged, or have the tags removed?
-You can only return items that are unworn, unwashed, undamaged, have the original tags/packaging attached.
NOTE:
The shipping label we provide only works if you are shipping within the US.
Tips:
Please refer to our detailed terms and conditions. Shipping Policy, Returns & Exchanges.
Or contact DEWBU Support Team support@dewbu.com, we will feedback within one business day.
COVID-19 Notice
Due to the COVID-19 restrictions affect delivery time.
We are still trying our best to offer the best service for you.
Thank you for your patience and understanding.
1-Year Limited Warranty on Heated Apparel1-Year Limited Warranty on Battery30-Day Return and ExchangeFREE Return Shipping in The US
Registration
3-Year Warranty on Heated Apparel upon Registration
18-Month Warranty on Battery upon Registration
Be the First to Hear About Our Latest Product News
Get Exclusive Deals Delivered to You Every Month
Enter the Chance to Become a Power User and Try Our Newest Products!
EASY CARE

The power button is waterproof. Heating elements and overall jacket structure are designed to endure routine hand or machine wash.

TWO-WAY ZIPPER HEAD

With the two-way smooth zipper design, heated jackets can be opened from the top or bottom that are more convenient.

REMOVABLE HOOD

The heated jackets offers you great flexibility by having a removable hood.

WATER RESISTANCE

Teflon coating allows water beads to roll off to keep the fabric as dry as possible.
Multiple Power Supply Methods
12V Battery (Included with the Jacket)

12V Wire (Purchase from DEWBU Separately)